Packages & Services
With our distinctive designs and packages no two events will be the same with LJDJs. We understand what our clients are looking for and deserve a show that best suits their vision and budget. Our highly skilled production team will provide a service that is unmatched in the entertainment industry. LJDJs have the capabilities to not only change the way your guests see entertainment but create an entertainment experience like no other.
With all the options and enhancements that LJDJs has to offer, we will guarantee that you will have the best planning experience before and after your big day!
LJDJs are proud to offer our in house professional photography and cinematic video team for your memorable night! Photography and videography packages are available. Call to inquiry and schedule your free wedding or event consultation.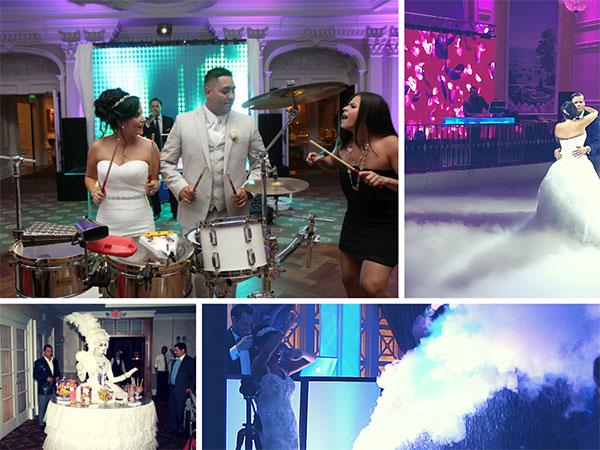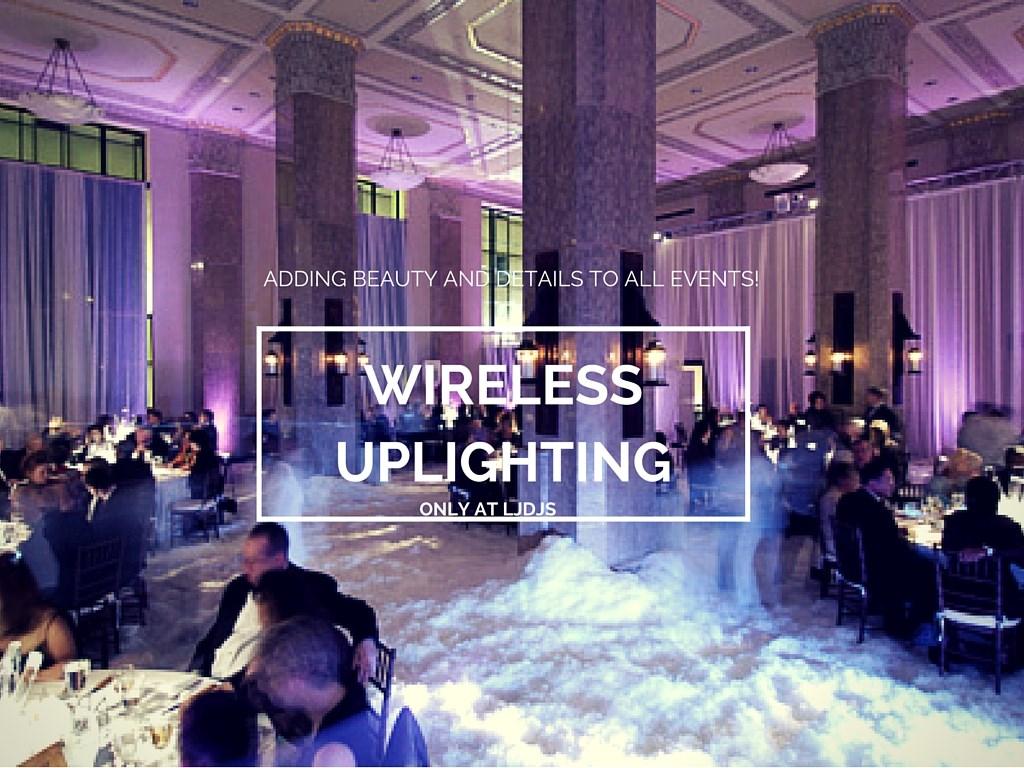 Wireless Up Lighting
Up lighting is great for themed events and any for any venues that need a quick facelift. Our lights are wireless battery operated and work at the click of a remote control. With over 20 million different color schemes and effects, these lights can create the atmosphere you've dreamed about. From a solid color, to a flutter, to a strobe light effect your guests wont know what hit them when these lights begin to take over the show. Not only will our powerful up lighting be a great part of your venue, it will help add the right mood once the doors open to your reception hall.
TV Monitors
Tv's can be used at any event from a sweet 16 to a corporate party, share past and current highlights that demand your guests attention. The TV abilities seem almost endless including candid photos, Instagram, display custom DVD montage; photo booths upload, and live simulcasting. Our TV's come in a vast array of shape and sizes perfect to bring together the design of your event. Want to do something different? Check out our VIDEO WALL. We can customize any shape or size TV just for you.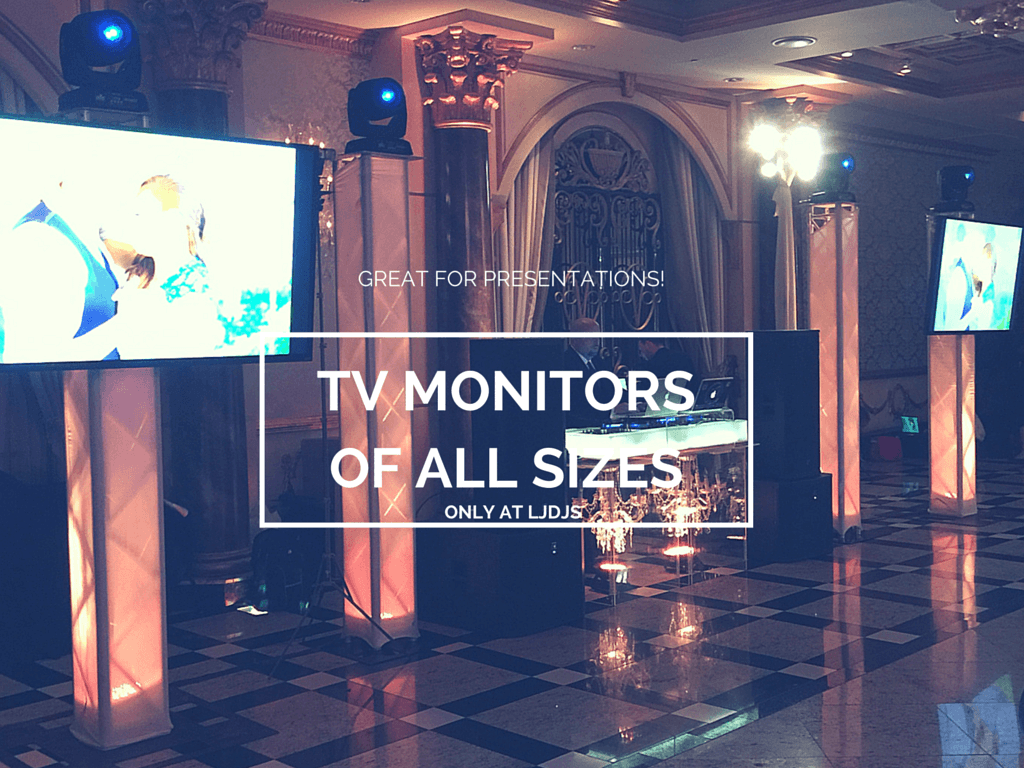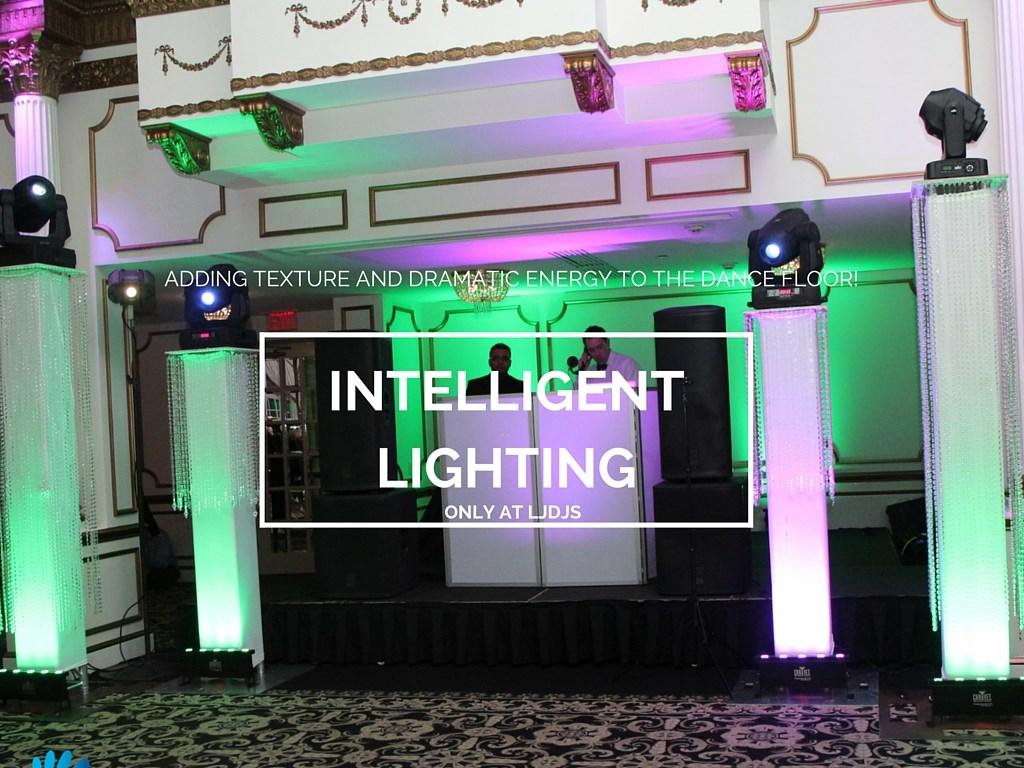 Intelligent Lighting
Intelligent lighting creates the club or concert style themed event you may have in mind. With these lights we can do a vast amount of spotlighting, pattern lighting, strobe lighting and much more! These lights are great for introductions to highlight the bride and groom as they enter the room. Our lighting technician will perform the perfect light show coordinated with you to be sure every cue is hit!
Monograms/Lyco Lighting
Monograms are customized logos that can light up any dance floor and add flair of sophistication to your venue and event. The way it works is a projected image can be pictured on the dance floor and or walls to create a lighting effect that brings together the design of your event. This logo creates a personalization for your event that can create a lasting image in you guests heads. We like to call it branding your special day to create a once in a lifetime unique wow factor.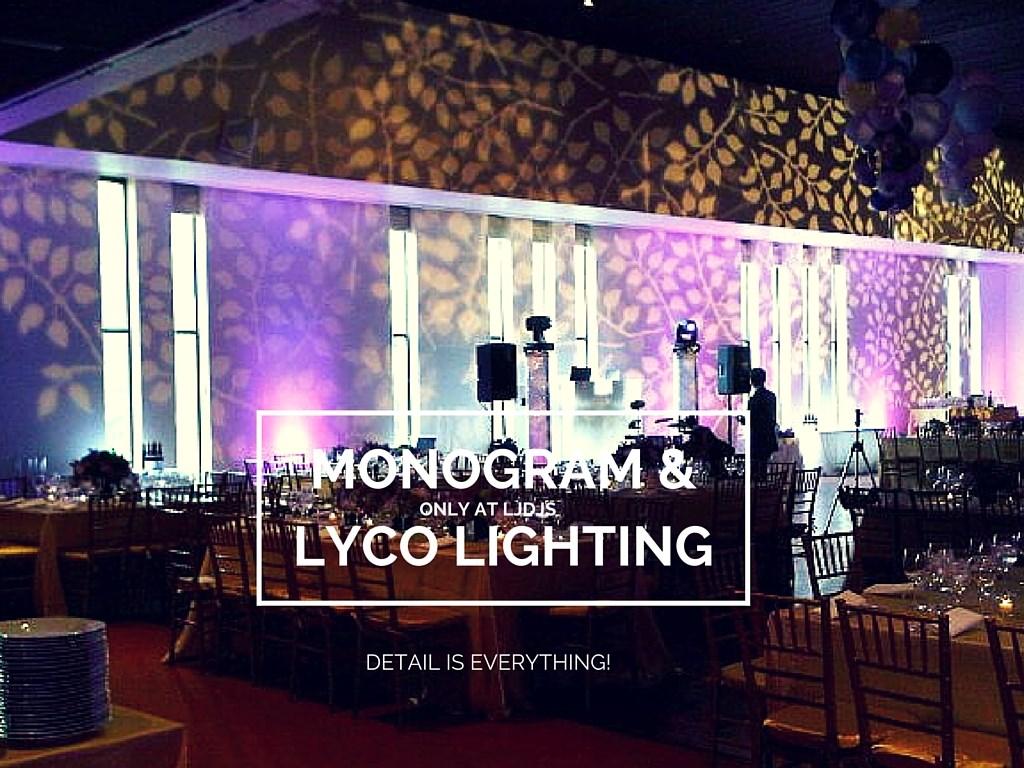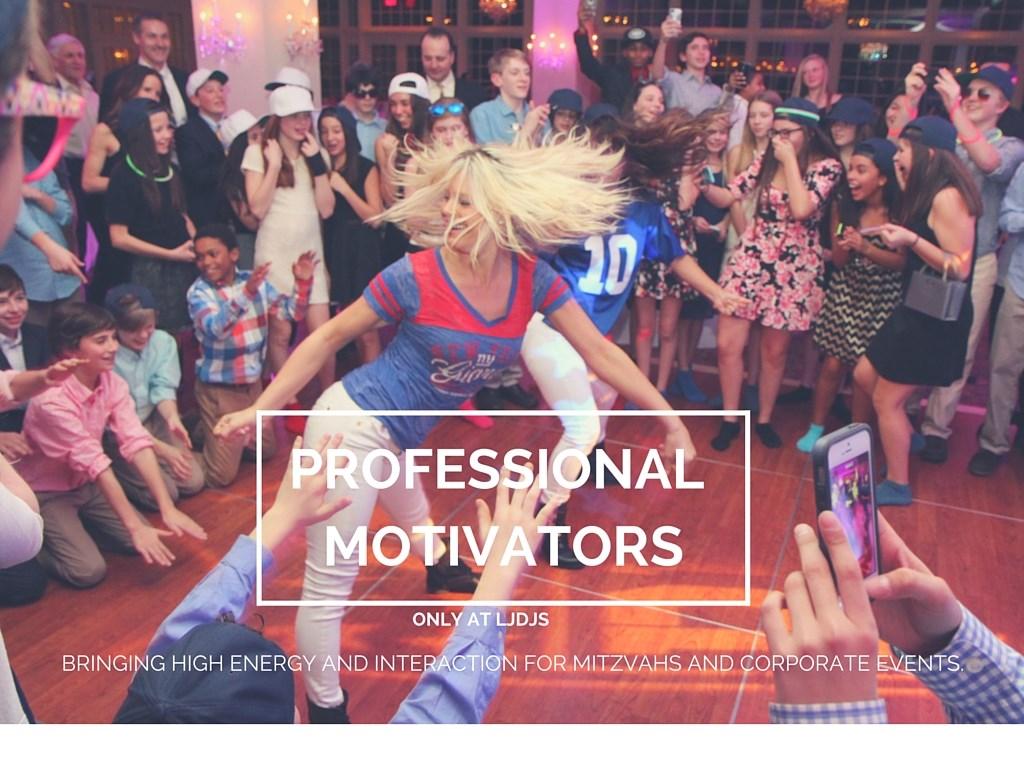 Motivators
Important for any event motivators create the atmosphere that encourages your friends in interactive dances and games. This is especially great for schools, Mitzvahs, and Sweet 16's. The LJDJs motivators are all highly trained professional dancers and will turn up the interaction at your event. We have a variety of dancers you can chose from including break dancers, hip hop dancers, or HIGH energy party goers, no matter the motivator you will have a large amount of interaction at your event!
Photo Party Booths
The classic photo booth is the perfect party option for any event! A popular party favorite this service comes with an attendant, party props, choice of 2×6 or 4×6 photos, a mixture of color options, and a scrapbook option. After your event, we provide you with a flash drive with all the material that was snapped by your guests! Let's not forget our VIDEO testimonial booth! We will provide you with a few themed backdrops for your booth that you can pick between to really add that extra flair you've been looking for! Some great features that our booth provides are all the social media platforms and email. Why wait to see the images online when you can now send the file right to your cell phone or social media. Snapchat booth will be coming soon for 2016! You've heard it first here.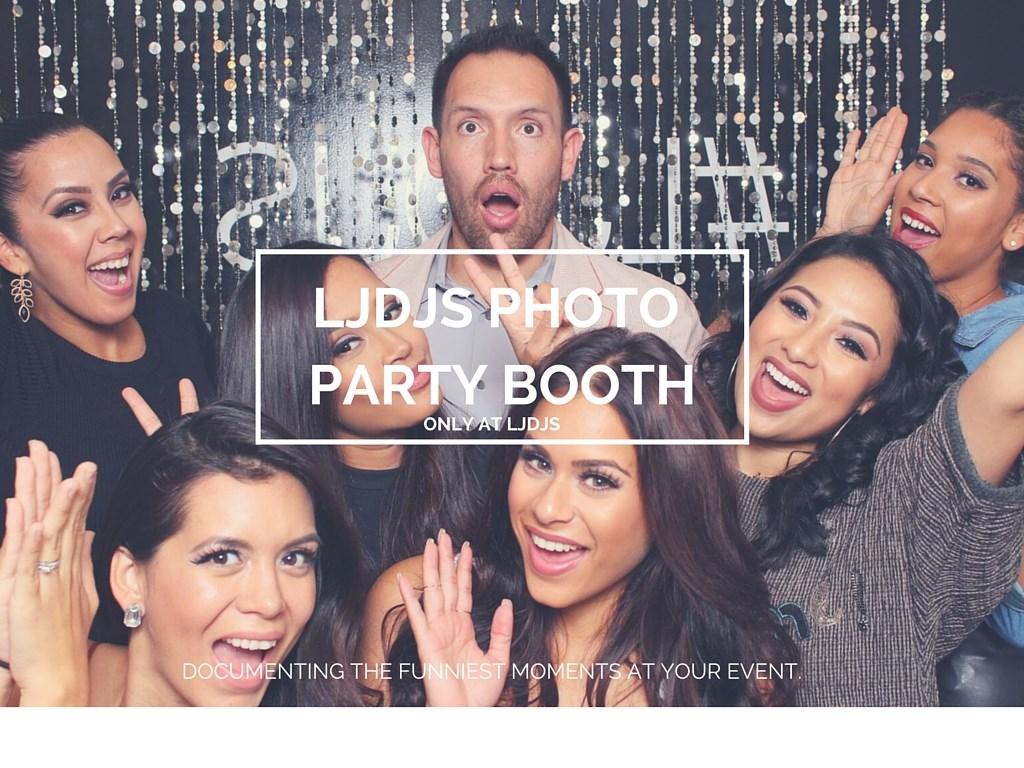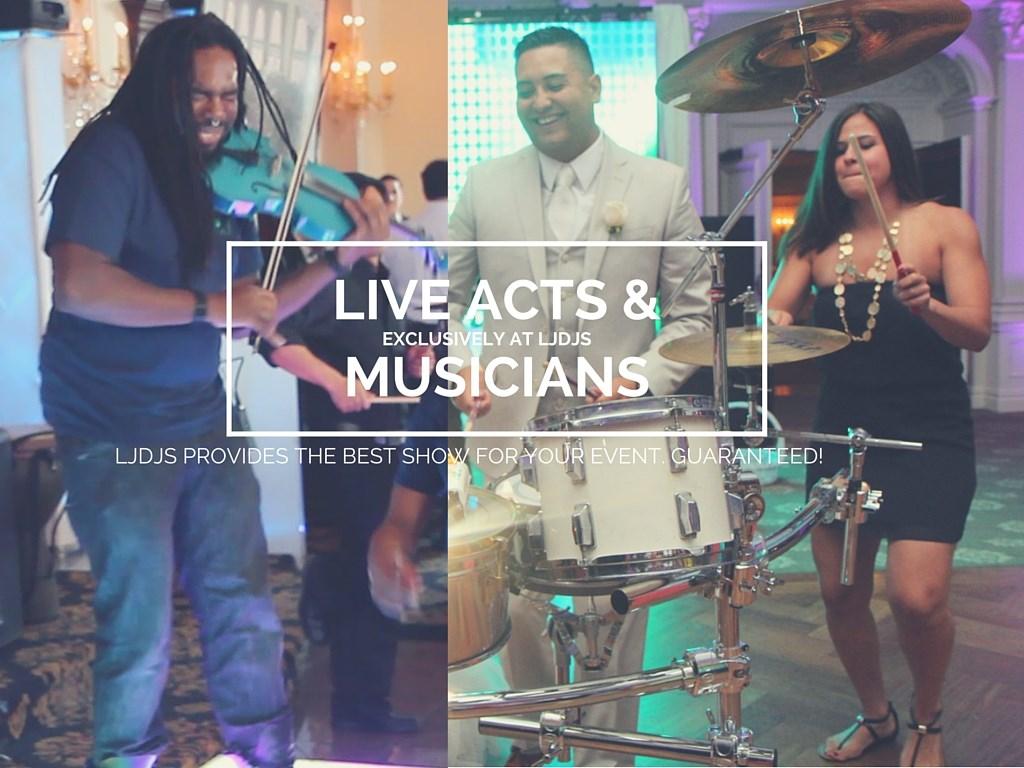 LIVE Acts
Ever wonder what it would be like to have a celebrity at your event? LJDJ's has just the celebrity look a like for you. Fool your friends and guests into believing that you have a major star at your party. We also provide top tier professionals ranging from percussionists to party bands and circus performers for the HORA LOCA! Our creative time can help enhance any event with our celebrity musicians. Saxophone players are a huge hit for the last hour of any event as well as for cocktail hours. If you want your event to be over the top and create a buzz for years to come,  give us a call and set up your entertainment consultation today!
Junk Trucks
A personal favorite of ours at LJDJs. Our junk truck will help you and your guests fix that munchies problem! We have many different packages, which can include White Castle, Dunkin Donuts, Soda, Juice, Water, Coffee, Chips, Candy and also the option to upgrade your truck with A La Carte Items! This will create a major wow factor at the end of your crazy night, don't miss out on this one of a kind service!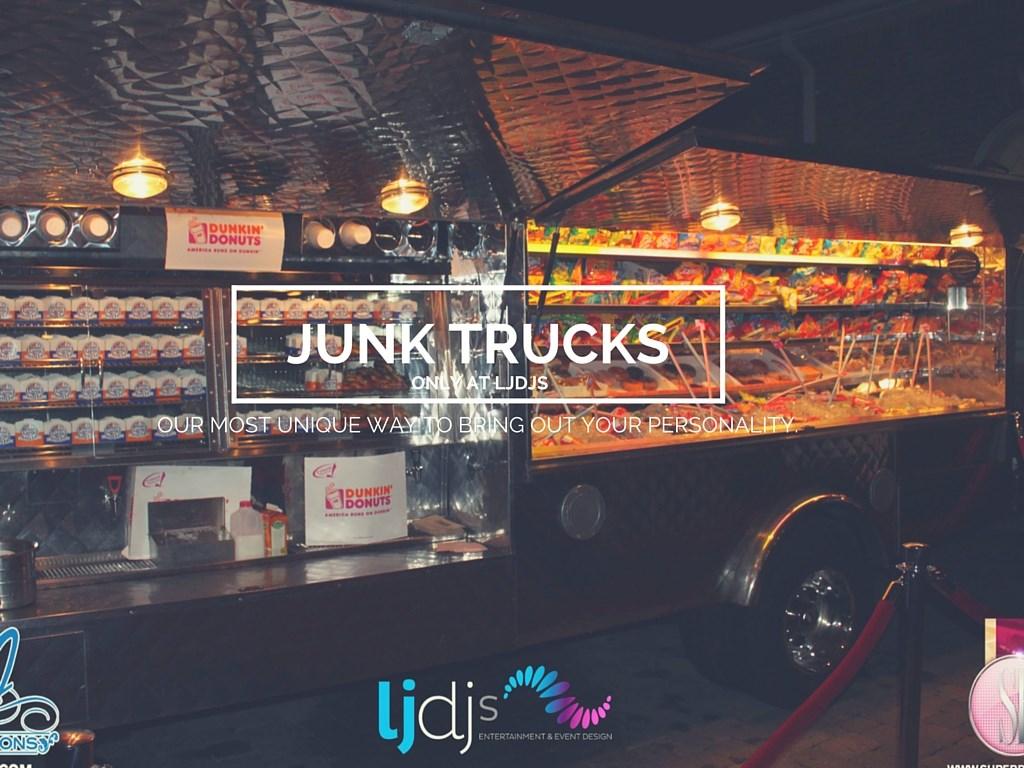 Custom Photo & Video Edits
A montage can bring any type of emotion you are trying to create for whatever the occasion. With the power to generate life story, love story, and even short video clips a montage has the power to highlight your special dance with mom and dad or bring back memories for your guests to share.  We can also create an amazing commercial for your event with high res animation and more. You can come to us with your ideas ready to go, or you can utilize our team of editors, directors, cameramen, voice-over artists, lighting technicians and editors for a fully polished video presentation. Call to inquiry more about this service and how we can help brand your company.
Lounge Decor
At LJDJs Event Design & Entertainment, our professional design team can help you create the right style of lighting, lounge decor, centerpieces, and party favors. This option is great for bringing out a special theme for Bar/Bat Mitzvahs, Sweet 16's and Quinceañera. Our skilled team will make planning your event a breeze. We believe that service is in the details.  Call us today and view our showroom.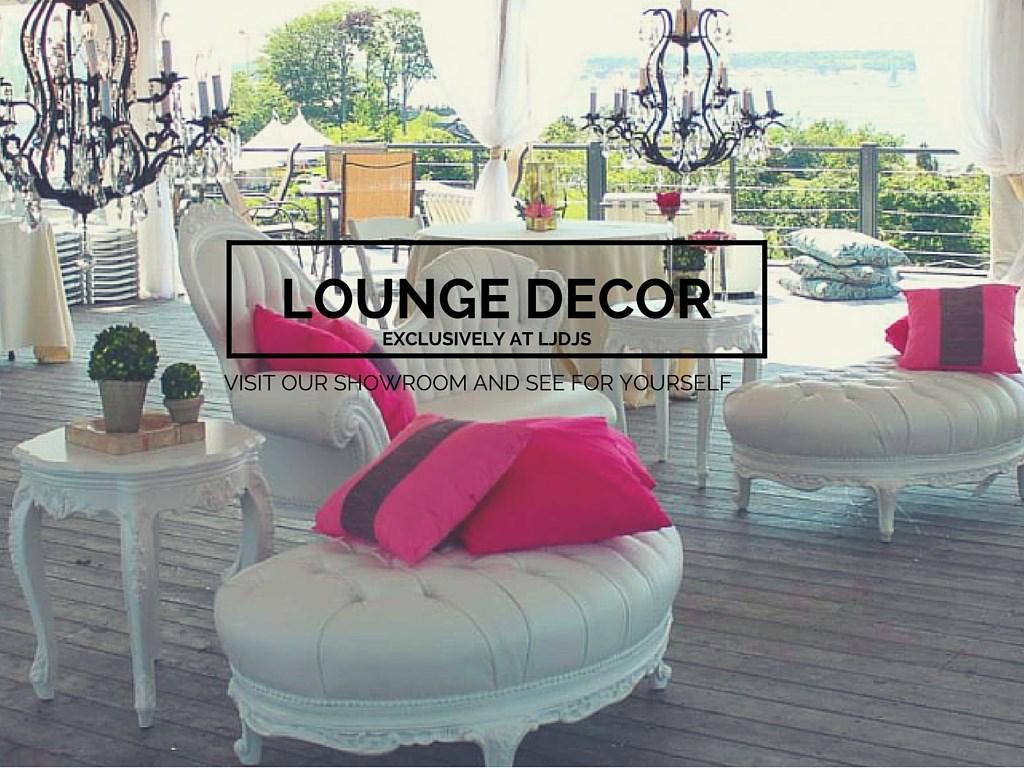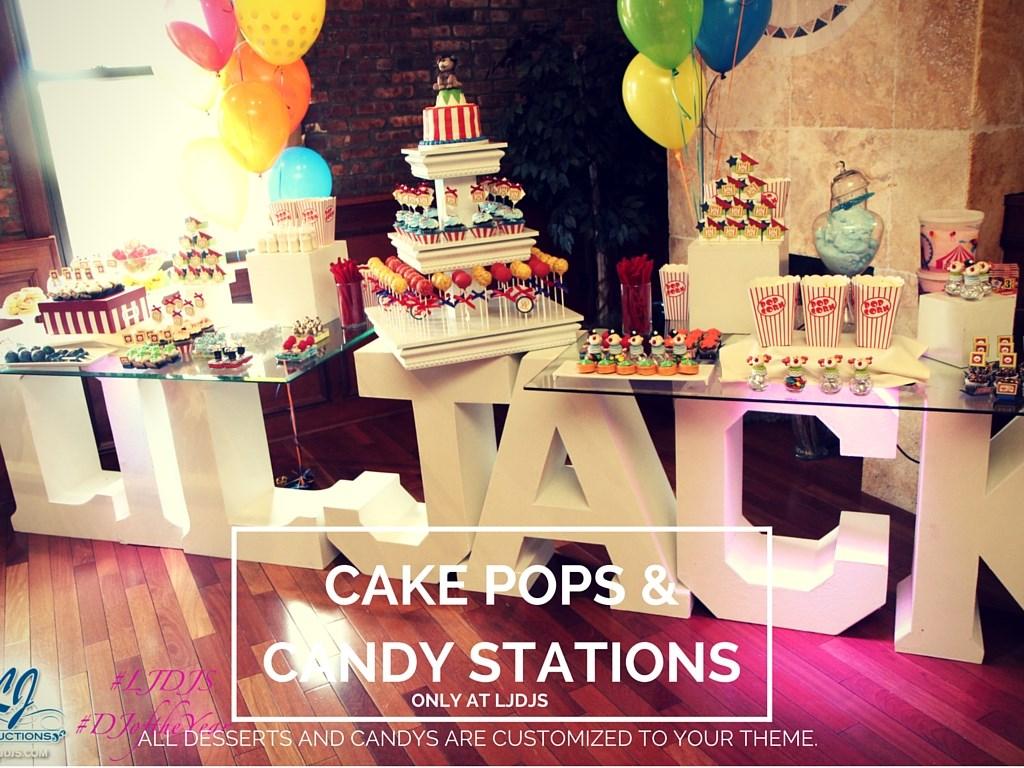 Cake Pops & Candy Station
Add a special touch to your event with beautiful customized dessert creations. Specializing in cake pops, chocolate dipped pretzels, caramel apples, dessert tables and more. Candy Stations by Pop Culture Cake Pops  are our all-time favorite party trend and are always featured in any party. Candy stations can be created in a variety of styles, sizes, color schemes and themes. TIPS:
When opting for a candy station make sure you have enough candy for every guests to take home unless you are simply serving it as a dessert bar at your event. In that case, you may want to provide just enough so guests can snack on treats throughout the evening. Location, location, location! Check the layout of your venue and set up your candy station in an area that will not cause a traffic jam. Sometimes candy stations cause so much excitement you have everyone cramming into one area to grab their goodies and it could get a bit hectic. A popular idea is to have the candy station set up during the latter part of the evening in a foyer or selected area and as your guests head home they leave with a sweet lasting impression of your very special day.
RFID Party Bracelets (Radio-Frequency IDentification)
LJDJS is what your event is looking for! Everyone wants to feel like they're a part of a bigger story. We put each guest right in the middle of the action where they instantly become part of a show. We add energy and emotion to any event, providing the nonverbal cues that draw people together and define memorable moments for your guests. Go beyond what can only be seen and heard, and create truly immersive experiences that your audiences will love. Our full service production department can take your event from idea to execution. Need customized LED devices with original programming content? We've got you covered. Need training for your operators or full-service event management? We can do that, too.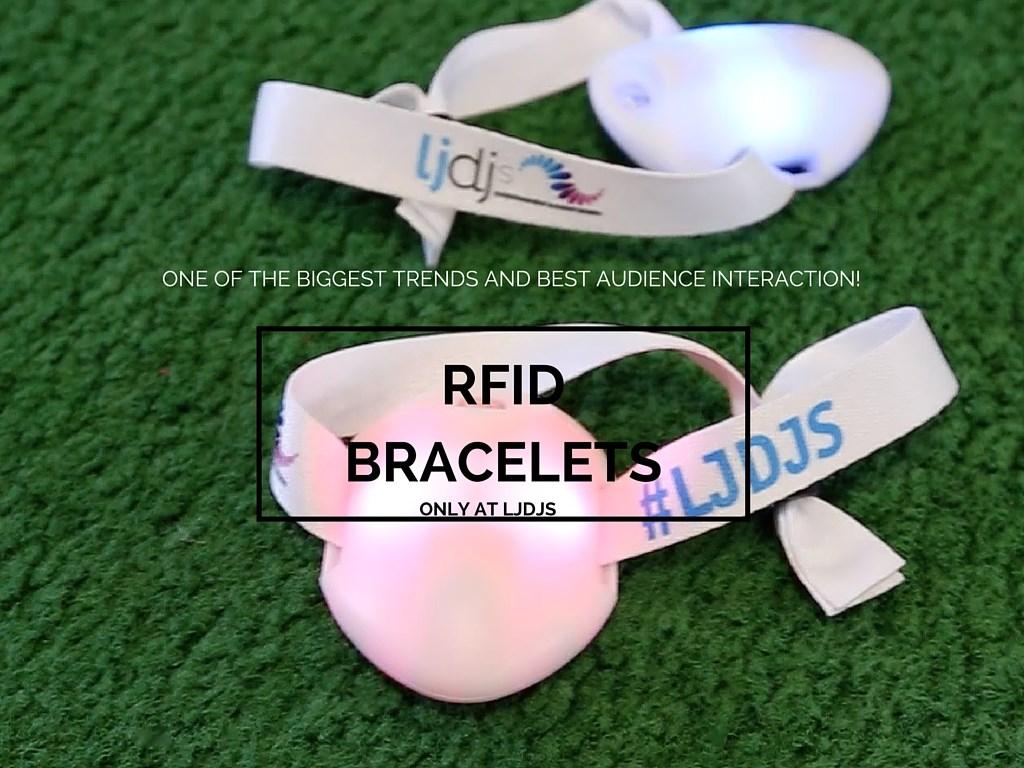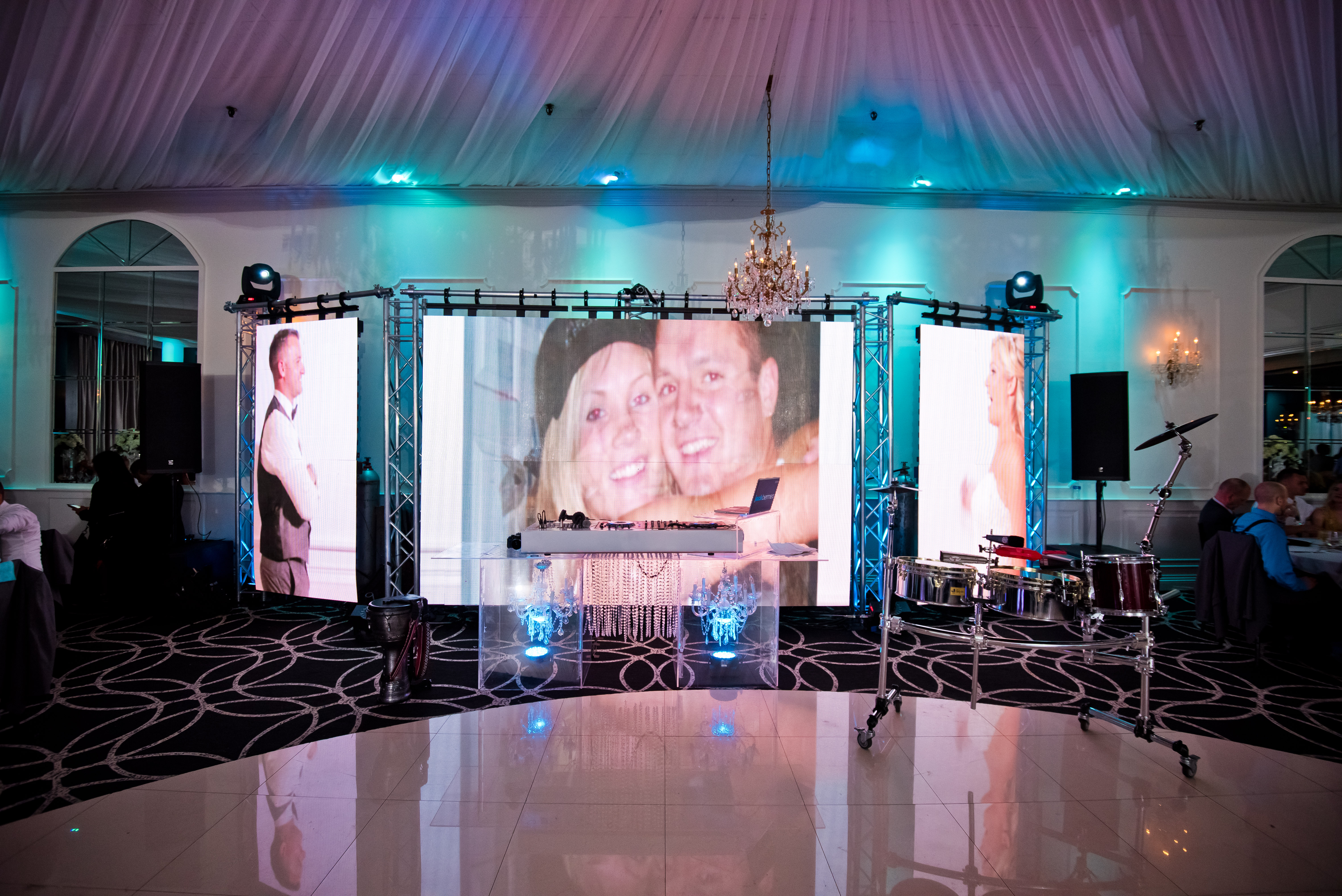 LED Video Wall
EXCLUSIVELY and ONLY at LJDJS.  No matter what type of event you are holding. Our production team can produce a concert style look with our LED HD Curtains. What makes our product so unique, we have the largest Video Wall in the mobile industry and it is all customizable in sizes. Our video wall is great for everything from effects to higher resolution video playback.  These qualities make it perfect for all most any application.
100% Seamless
By leveraging innovative mounting systems, our premium LED video curtain can provide a completely seamless display surface at any scale. This seamlessness creates an immersive visual effect unavailable in other tiled display types. This is only seen and offered by us at LJDJs.
Any Shape and Size
LJDJs can deliver LED video walls of virtually any shape and size. This flexibility opens limitless possibilities for creating immersive virtual environments, breathtaking corporate displays, and largescale control room visualization systems.
Sparkler Effect
LJDJs knows how to create a buzz. One of the most requested enhancements all of our clients have been requesting.
100% Odorless & Flameless
Our sparkler units is a new generation cold sparkler machine with non-pyrotechnics spark stage effects and cold firework fountain. This is the first non-pyro special effect fixture in the world. The fixture will produce sparkler effects ranging from 5 to 15 feet in the air for up to 90 seconds at a time.  This is only seen and offered by us at LJDJs.
Where do you install the sparkling units?
Our visual director knows how to make an impact and make your vision one of the best moments for everyone to witness.  Maybe down the staircase you want two units? How about during the first dance? Maybe right after you blow out your candles?  There are many ways to create one of the coolest moments of your night with our sparkler units. Call us for more info!